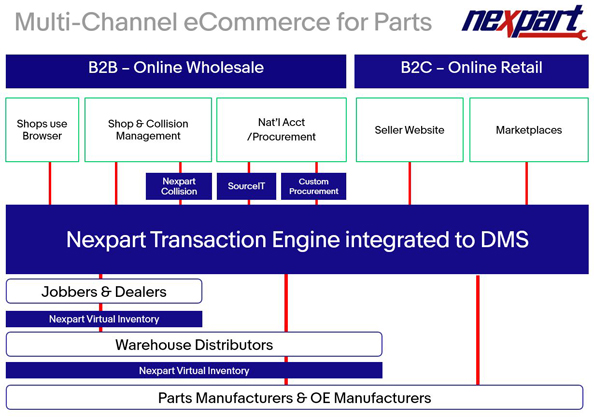 Real-Time Integrations to Seller & Buyer systems increase efficiency
Nexpart captures buyers' orders in real time, where they are instantly transmitted to your integrated system. Buyers accounts are debited, your inventory is reduced, shipping manifests are generated, and your product makes it to their shop or store as quickly as possible. Nexpart helps you smooth out the bumps and hurdles in the path between your warehouses and your customers' door!
Nexpart integrates with your existing system for inventory management, shipping, customer management (including bulk discounts and pricing levels), credit card processing, sourcing portals, and even eBay via eBay Link. For your Buyers, Nexpart integrates with their SMS and FMS systems as well as National Account purchasing systems such as Ariba.
Powered by the Best Catalog Data in the Business
Buyers of all shapes and sizes use the WHI Product Catalogs to look up parts by year, make, model, trim and engine or by VIN or by license plate lookup. Buyers can store vehicle-specific parts lists for easy ordering of frequently installed parts. Have a part number? Quickly use the Stock Check tab to enter known part numbers or interchange numbers. OE Dealerships & Collision shops can import stock orders or parts from Repair Orders and estimates. Nexpart is customized for each and every segment of the OE and Aftermarket sales channels.
Web Based Ordering
Use your existing computer and Internet connection to enter part numbers, use the on-line catalog or stock check your distributor. One click places your order; parts are pulled and delivered as normal. There's no software to install, no hardware to purchase, no complicated manuals to read and no messy integration issues.
Little to no training is required to use Nexpart. Customers order online 24×7 from a customized site made exclusively for your business. Customers can enter part numbers or use the online catalog complete with product images to check price and availability from multiple branches and place orders. The pick ticket prints, the parts are pulled and delivered as normal. We have done all the work for you by creating an off-the-shelf website that can be branded for your business. You keep your mind on business, not creating and managing technology.
Nexpart is Designed for your Business
Every business is unique. Nexpart gives you the tools and best practices to create the business that works for you. Our solutions for the Automotive Market make internet ordering possible for virtually any distributor-big or small, 2-step or 3-step, urban or rural, full line or specialist.
Nexpart is Cost Effective
Nexpart is a proven solution that is cost-effective and has excellent, easy-to-use features. We'll show you how to get your customers to quickly become loyal customers. You pay on results and are in control of your spending, so Nexpart fits any budget.
Proven Integration
Seamless and reliable integrations to your existing business systems are critical for success. No e-commerce provider successfully connects to more software applications than Nexpart. Nexpart delivers on the promise of integration by linking easily with enterprise resource applications, point of sale solutions, shop management solutions, accounting systems and more.
Nexpart's web based architecture enables collaboration. Customers and partners are extending their applications with our award-winning application and our enterprise-class platform through Nexpart. This proven technology makes collaboration between trading partners a snap – even for the largest deployments. Beyond simply supporting thousands of users, our architecture empowers customers to manage and share information and commerce in new and unlimited ways.
World-Class Security
WHI provides state-of-the-art security to ensure that your customer data is never compromised. Since our inception, we've committed substantial resources to continually develop our world-class security and reliability. Rather than outsourcing our maintenance, we take complete responsibility for maintaining and upgrading our security technology. The result: unsurpassed data security, privacy, peace of mind and reliability.